Elektro-Automatik - Turnkey DC Power Rack & Cabinet Systems
Product Overview:
EA's flexible high-power DC supplies and electronic loads are integrated into 19 " rack power supply or closed cabinet solutions and can be cost-effectively adapted to a wide variety of user requirements, thanks to their modular design and the standardized power and protection modules employed.
The 19 "rack power supply or cabinet system can be designed as pure DC sources, with power supplies, or as pure sinks, with electronic loads. Further still, the EA power supplies can be conventional or bidirectional, and the loads can be conventional or regenerative for a mixed of source and sink capability. High power density units can be easily paralleled up to 1.92MW in output, with up to 2000 VDC.
The DC rack power supply and electronic load series each feature 5 "TFT touch panel display for intuitive control, setup and programming. The intelligent interface allows you to program and test quickly without the need for extensive manual review.
Cabinet Systems with 15 Height Units (15 U) - Power range from 15 – 95kW
Equipment with series 9000
Power ranges: 15 to 45 kW
Power ranges: 15 to 45 kW
Programmable DC electronic loads: EL 9000B / ELR 9000
Programmable bidirectional DC laboratory power supplies : PSB
Height units: 3 U
Equipment with series 10000
Power ranges: up to 90 kW
Programmierbare DC Laborstromversorgungen: PSI 10000
Programmable DC electronic loads: ELR 10000
Programmable bidirectional DC laboratory power supplies : PSB 10000
Height units: 4 U
---
Cabinet Systems with 24 Height Units (24 U) - Power range from 15 – 120kW
Equipment with series 9000
Power ranges: 15 to 45 kW
Programmable DC laboratory power supplies: PS 9000 / PSE 9000 / PSI 9000
Programmable DC electronic loads: EL 9000B / ELR 9000
Programmable bidirectional DC laboratory power supplies: PSB 9000
Height units: 3 U
Equipment with series 10000
Power ranges: up to 120 kW
Programmierbare DC Laborstromversorgungen: PSI 10000
Programmable DC electronic loads: ELR 10000
Programmable bidirectional DC laboratory power supplies: PSB 10000
Height units: 4 U
---
Cabinet Systems with 42 Height Units (42 U) - Up to 1920kW in 19″ cabinets
Equipment with series 9000
Power ranges: 15 to 45 kW
Programmable DC laboratory power supplies: PS 9000 / PSE 9000 / PSI 9000
Programmable DC electronic loads: EL 9000B / ELR 9000
Programmable bidirectional DC laboratory power supplies: PSB 9000
Height units: 3 U
Equipment with series 10000
Power ranges: up to 90 kW
Programmable DC laboratory power supplies: PSI 10000
Programmierbare DC Elektronische Lasten: ELR 10000
Programmable bidirectional DC laboratory power supplies : PSB 10000
Height units: 4 U
---
Cabinet Systems with Several Units - Up to 1920kW in 19″ cabinets
| System | 240 | 480 | 720 | 960 |
| --- | --- | --- | --- | --- |
| Voltage | 60 – 2000 V | 60 – 2000 V | 60 – 2000 V | 60 – 2000 V |
| Current | 40…8000 A | 360…16000 A | 680…24000 A | 1000…32000 A |
| Power | (1 – 8) x 30 kW | (9 – 16) x 30 kW | (17 – 24) x 30 kW | (25 – 32) x 30 kW |
| AC-Connections | 2 | 4 | 6 | 8 |
| Max. AC-Current | 448 A (2 x 224 A) | 996 A (4 x 224 A) | 1344 A (6 x 224 A) | 1792 A (8 x 224 A) |
| System | 1200 | 1440 | 1680 | 1920 |
| --- | --- | --- | --- | --- |
| Voltage | 60 – 2000 V | 60 – 2000 V | 60 – 2000 V | 60 – 2000 V |
| Current | 1320…40000 A | 1640…48000 A | 1960…56000 A | 2280…64000 A |
| Power | (33 – 40) x 30 kW | (41 – 48) x 30 kW | (49 – 56) x 30 kW | (57 – 64) x 30 kW |
| AC-Connections | 10 | 12 | 14 | 16 |
| Max. Ac-Current | 2240 A (10 x 224 A) | 2688 A (12 x 224 A) | 3136 A (14 x 224 A) | 3584 A (16 x 224 A) |
| Systemcode | 240 | 480 | 720 | 960 | 1200 | 1440 | 1680 | 1920 |
| --- | --- | --- | --- | --- | --- | --- | --- | --- |
| Number of cabinets | 1 | 2 | 3 | 4 | 5 | 6 | 7 | 8 |
| Network connection type | 2 x 3 phase three-phase current per cabinet (L1, L2, L3, N, PE) | 2 x 3 phase three-phase current per cabinet (L1, L2, L3, N, PE) | 2 x 3 phase three-phase current per cabinet (L1, L2, L3, N, PE) | 2 x 3 phase three-phase current per cabinet (L1, L2, L3, N, PE) | 2 x 3 phase three-phase current per cabinet (L1, L2, L3, N, PE) | 2 x 3 phase three-phase current per cabinet (L1, L2, L3, N, PE) | 2 x 3 phase three-phase current per cabinet (L1, L2, L3, N, PE) | 2 x 3 phase three-phase current per cabinet (L1, L2, L3, N, PE) |
| Mains voltage | 380 / 400 / 480 V (with installed NA protection 400 V) ∓ 10%, 45 – 66 Hz, PF > 0.99 | 380 / 400 / 480 V (with installed NA protection 400 V) ∓ 10%, 45 – 66 Hz, PF > 0,99 | 380 / 400 / 480 V (with installed NA protection 400 V) ∓ 10%, 45 – 66 Hz, PF > 0.99 | 380 / 400 / 480 V (with installed NA protection 400 V) ∓ 10%, 45 – 66 Hz, PF > 0.99 | 380 / 400 / 480 V (with installed NA protection 400 V) ∓ 10%, 45 – 66 Hz, PF > 0.99 | 380 / 400 / 480 V (with installed NA protection 400 V) ∓ 10%, 45 – 66 Hz, PF > 0.99 | 380 / 400 / 480 V (with installed NA protection 400 V) ∓ 10%, 45 – 66 Hz, PF > 0.99 | 380 / 400 / 480 V (with installed NA protection 400 V) ∓ 10%, 45 – 66 Hz, PF > 0.99 |
| System height | 24 HE or 42 HE, depending on the number of units per cabinet | 24 HE or 42 HE,depending on the number of units per cabinet | 24 HE or 42 HE, depending on the number of units per cabinet | 24 HE or 42 HE, depending on the number of units per cabinet | 24 HE or 42 HE, depending on the number of units per cabinet | 24 HE or 42 HE, depending on the number of units per cabinet | 24 HE or 42 HE, depending on the number of units per cabinet | 24 HE or 42 HE, depending on the number of units per cabinet |
| System width | 60 cm | approx. 120 cm | approx. 180 cm | approx. 240 cm | approx. 300 cm | approx. 360 cm | approx. 420 cm | approx. 480 cm |
| Number of possible devices | 8 | 9 – 16 | 17 – 24 | 25 – 32 | 33 – 40 | 41 – 48 | 49 – 56 | 57 – 64 |
| Max. achievable power | 240 kW | 480 kW | 720 kW | 960 kW | 1200 kW | 1440 kW | 1680 kW | 1920 kW |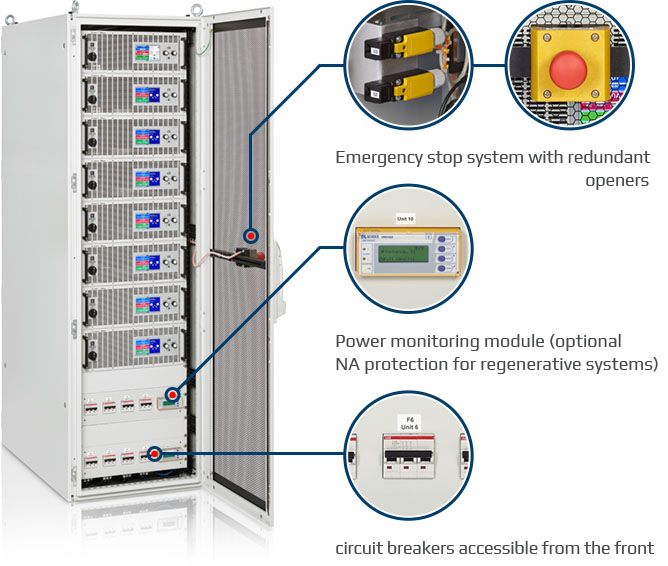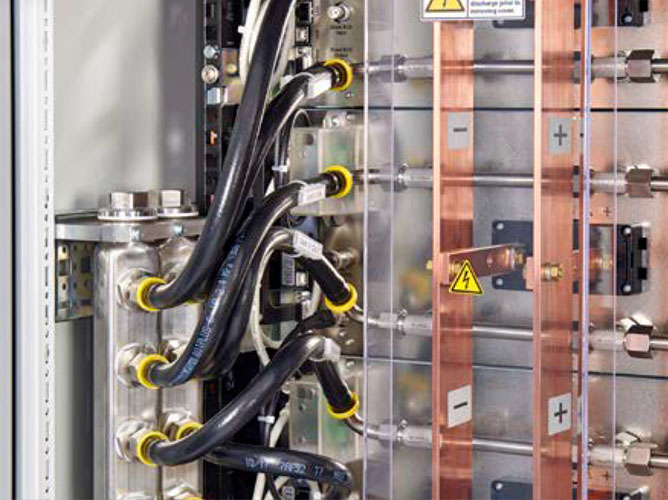 Close-up of the water distribution of a cabinet with eight units and water cooling (240 kW system), DC bus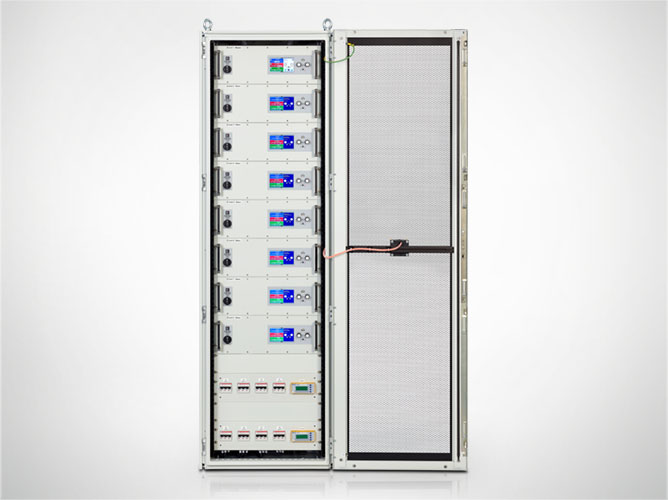 Front view of a cabinet with eight water-cooled units in hermetically sealed housings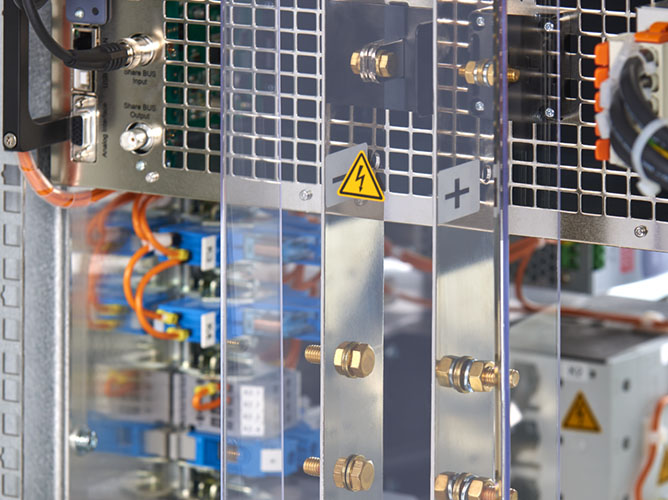 Close-up view from DC bus (24U cabinet system)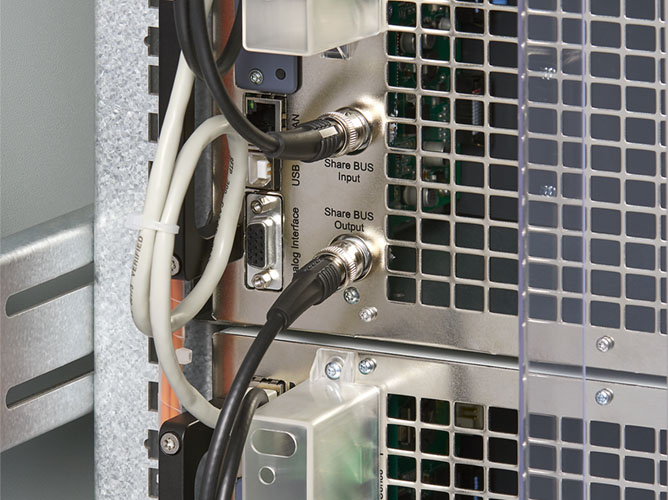 Close-up view of the share bus and master-slave bus
More Product Information