Environmental Test Customer Training Seminar
Tuesday, September 9, 2014 - 8:30am
Cincinnati Sub-Zero Products, Inc. will hold a FREE training seminar for our customers at Cincinnati Sub-Zero's plant. 
Tuesday, Sept. 9 8:30AM – 5:00PM 
Wednesday, Sept. 10 8:00AM – 12:00PM 
Who Should Attend?
The training seminar will be geared to CSZ test chamber operators and maintenance technicians within your organizations. 
What Topics Will Be Covered? 
 Environmental Chamber Design 

Attendees will learn how to define an application, utilities needed to install a chamber, equipment move-in restrictions, the basics of chamber design, the importance of good airflow and performance. 

Refrigeration

Learn the basic design of cascade refrigeration systems, how they operate, and how to troubleshoot the system. 

 Humidity

Learn the basics of humidity generation, how it is controlled, the effect of live load, water quality required, and maintenance. 
EZT-570i Touchscreen Controller

Learn to navigate and program CSZ's state–of-the-art controller with hands-on training 
Hands-On Chamber Operation & Maintenance

Learn how to operate and maintain a chamber in a step-by-step format. 
Hands-On Troubleshooting

Learn to troubleshoot malfunctions in the controller, circuitry, refrigeration, and humidity systems. 
Why Should You Attend? 
Attendees will meet our knowledgeable service and engineering staff and have a chance to ask technical questions. 
The training sessions will include valuable information that will help your operators and technicians efficiently operate and maintain their test chamber. 
Attendees will learn how to properly maintain test chambers with quick, time saving tips. 
Attendees will learn how to identify and quickly correct malfunctions - saving your company both time and money. 
 Each attendee will receive a reference book with useful information. 
Best of all, this seminar is FREE to you! CSZ will provide lunch and dinner. 
How Do I Register for the Seminar?
Please complete the form below and fax to Debbie Sterbling at (513) 772-9119 or e-mail with the information below at dsterbling@cszinc.com to register for the seminar. 
Register by September 3. Attendance is limited to the first 20 customers that register. 
CSZ 2014 Environmental Test User Seminar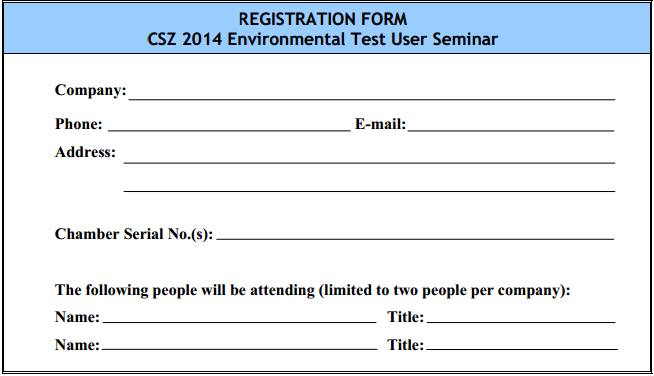 Cincinnati Sub-Zero has a special hotel room rate at the Sharonville, OH Drury Inn for $82.00 per night plus tax. 
You may reserve your room in our block by contacting the hotel directly at (513) 771-5601. Please be sure to mention CSZ when making your reservation.